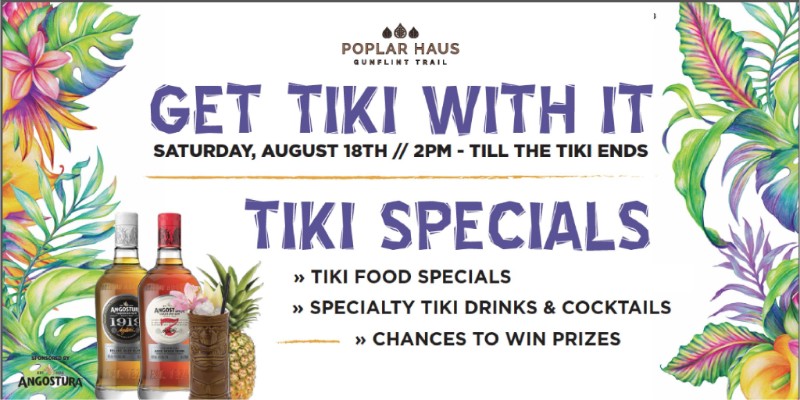 Get Tiki with Poplar Haus this Saturday!
Join us on our deck overlooking the lake for Tiki inspired food, drinks and music!
*****Menu******
Coconut Shrimp w/Mango Thai Chili & Ginger
Calamari w/Pineapple Mango Sauce
Pineapple Teriyaki Pulled Pork
Shrimp Briyani w/Jasmine Rice, Green Curry, Pineapple & Coconut
*****Cocktails*****
Mai Tai
Angostura 5yr, Lime Juice, Grapefruit Juice
Orgeat, Tattersall Orange Crema
Porky's Revenge
Angostura 1919, Maple Syrup, Angostura Amaro
Orange bitters
Rise of the Dead
Angostura White Oak, Lemon, Juice
Hibiscus Vanilla Syrup, Angostura Bitters
Ginger Beer, Rosemary
Planter's Punch
Angostura 7yr Rum, Lime
Demerara Syrup, 11 Wells Allspice Angostura Bitters
Mint
Celebrate the end of Summer at Poplar Haus Tiki Style!
- Poplar Haus